Travel Map Feature: 283-Lake of the Ozarks, Missouri
As the largest man-made lake in the Midwestern United States, Lake of the Ozarks extends across the Missouri counties of Benton, Camden, Morgan and Miller. It has a surface area of 54,000 acres and 1,150 miles of shoreline, with the main channel of the Osage Arm stretching for 92 miles and a total drainage area over 14,000 square miles. The lake is fed by the Osage River in the northern region of the Ozarks in central Missouri, along with smaller tributaries, including the Niangua River, Grandglaize Creek and Gravios Creek.
The Union Electric Company of St. Louis, Missouri, alongside the principal engineering firm, Stone and Weber, created the lake through the skillful and timely construction of the 2,543-foot long Bagnell Dam. On August 8, 1929, construction began and was completed in April 1931, reaching spillway elevation in May of 1931. The lake went through a number of name changes: during construction, it was referred to as Osage Reservoir or Lake Osage, then the Missouri General Assembly officially named it Lake Benton for Senator Thomas Hart Benton, but none of the names took root and was ultimately changes to Lake of the Ozarks. This name simply referred to the location of the lake. Featuring a serpentine shape, Lake of the Ozarks has appropriately earned the nickname "The Magic Dragon"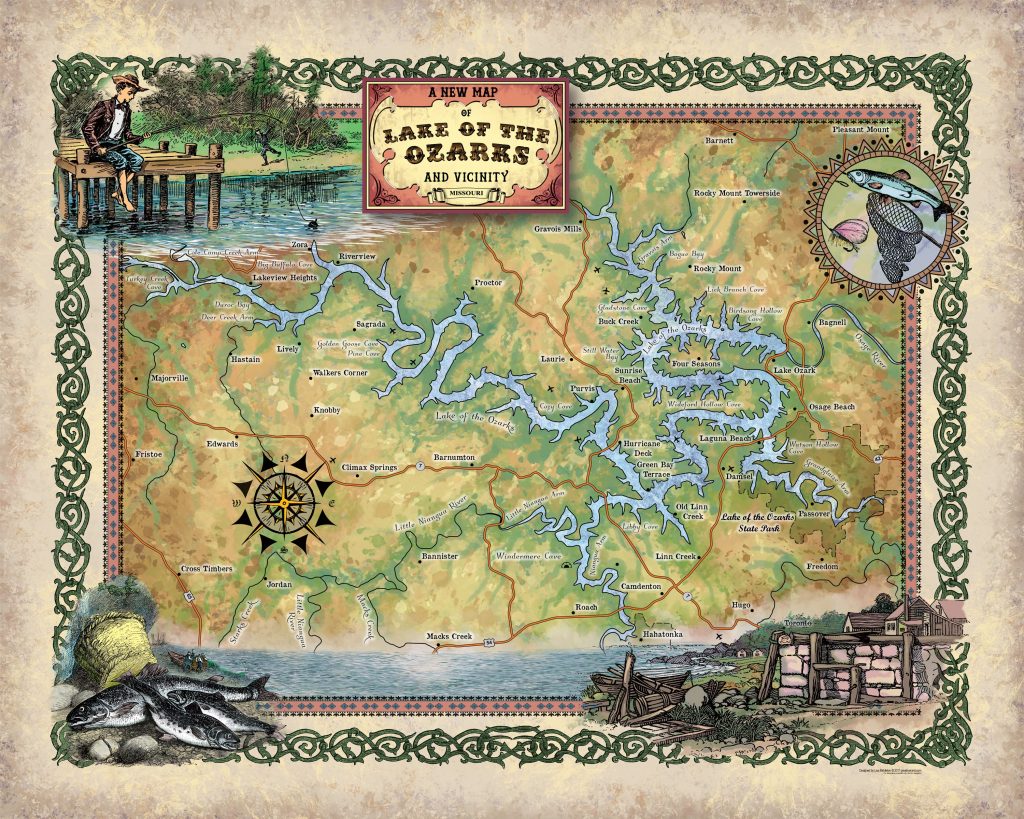 The Osage Indians were the first inhabitants in the Ozark hills and valleys, and at the height of their power in the early 19th century, controlled the Ozarks to the east, and with great tenacity clung to their hunting grounds. European exploration in the Ozarks began with the Spaniard, Hernando de Soto in 1541. However, Lewis and Clark were the first to describe the natural beauty and wonders of the Ozark Mountains.
In the vicinity of the Lake, there is bountiful natural diversity in Lake of the Ozarks State Park and its trails can lead you to arid glades, lush fens, delightful wildflowers and spectacular blufftop vistas. Wildlife viewing in the wilderness area can allow you to spot creatures such as deer, wild turkey, pileated woodpeckers, red-tailed hawks and American woodcocks. There is much to enjoy in Lake of the Ozarks region, including caves, coves, and caverns, parasailing and wakeboarding, boating, swimming and fishing. Lake of the Ozarks is more than simply a source of power; it is a vibrant attraction that pulls many to its shoreline.
All sizes are approximate.
You will also love our antiquarian map collection! Click Here