Book Feature: 5-Book Railroad Bundle by Michael Gillespie
BUNDLE AND SAVE More than $25! Limited time offer!
Michael Gillespie's 5-book River and Rail Steam Bundle!
A $110 Gift Pack of our Most Popular Paperback Transportation books for Just $90! A perfect match for Lisa Middleton's historic maps from the turn of the 19th and 20th centuries!
Paperback series of Mike Gillespie's most beloved River and Rail books…
ALL from the era of Steam!
Nearly 600 pages of newly collected Railroading stories in three handsome Volumes.
Two Riverboat  anthologies combine for 450 fascinating pages… Wild River for the Missouri River andCome Hell for the remaining American Waterways. Filled with fascinating stories, historic photos, and details for the steamboat buff. Books will contain glossary, index, or bibliography as might be most appropriate. Everything you wanted to know about Steamboating!!  Outstanding contemporary resources from a witty and devoted steam historian!
Or Order Quality Paperback Books Individually!
WHAT OUR READERS ARE SAYING!
"Wild River, Wooden Boats is a splendid account of frontier travel on the Missouri. Tragedy and triumph are recounted without dramatics o that the reader will want to be there on the one hand and be glad he wasn't on the other!"
~ William Steinike, Reader and Steamboat Buff
 "In Come Hell or High Water, Gillespie has woven together contemporary into a history of steamboating that hasn't been told quite this way before. I found it fresh and new. I thoroughly enjoyed it!"
~ Karen "Toots" Malloy, long time Riverlorian with the Delta Queen Steamboat Co.
"These three collections of Old Time Railroad Stories are for people who love to immerse themselves in the early days of steam.  All are colorfully written, well-edited, and will take the reader through the gamut of emotions. You will read every one more than once!"
~ Reader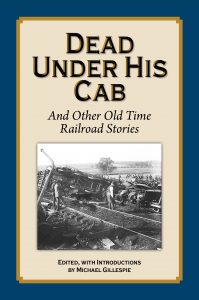 More Steam Transportation History and Railroad Maps You'll Love!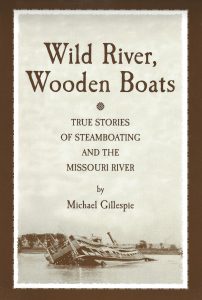 Wild River Wooden Boats by Michael Gillespie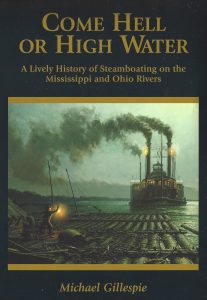 Maps are quality historic reproductions from the collection of  and-painted by map artist Lisa Middleton. 
Contact us or choose the size that interest you right here.
Father of Water Map Feature
Lisa grew up along the Mississippi River, exploring every nook and cranny… both on the water and off, with her family. Her special talent is color, blending, and a sensitivity to the joys that maps hold for many of us. Her maps are often described as being among the most beautiful on the Internet. Her maps may be found through the length and breadth of the United States, and her art has embellished book covers, CD covers, and Madison Avenue brochures.
Old maps are fascinating to me, to see how a landscape was interpreted back then without ever being able to have a birds eye view. You really bring your maps to life! And I love the bit of history you have on most!
Just wanted you to know that I just returned from vacation, and the map I purchased from you was already safely here in St Louis.. Thanks for the excellent service. Map is great!
Lisa does amazing work. Beautiful original piece that I have already had matted and framed. It looks beautiful! I would highly recommend her and her artwork!
© Copyright. All rights reserved.