3 Reasons Lisa Middleton's Hand Painted Historical Maps are Better Than Antique Maps
If you need a reason to purchase a hand-painted historic map from Great River Arts, let me give you three. In fact, in this post I will go one better than that. Let me give give you three reasons why our maps are better than antique maps as choices for Christmas gifts, or as a means to start a map collection. Once you take these into consideration, you will see the value behind our reproductions versus their unpainted counterparts.
They are Less Expensive than Antique Maps
Even though some might consider a Lisa Middleton hand painted his stork map to be a bit pricey, they are considerably less than their antique map counterparts. For instance, the original nova tiptoes test map can be yours for somewhere around $60,000. If you happen to have that kind of money lying around, go for it. Yet, if you have other things to pay for like a mortgage or life, then a hand-painted historical map is the best choice.
They are More Attractive Than the Originals
Typically, historic originals are either unpainted, or faded. They can also contain a bit of damage due to weathering, water spills, or normal wear and tear. They tend to be much more academic in nature, which can really detract from the aesthetic appeal of the map itself. A Great River Arts Historical map is much less academic in nature. Our maps provide more ambiance then an antique map, yet still contain all of the pertinent information that a viewer would want to see. This creates a true work of art that invites the viewer to explore rather than require the purchaser to explain.
They are Available in Varying Sizes
Sometimes you find the perfect antique map only to discover that it is either too small, or too large, for your space. That's not the case with a hand-painted historic map by Lisa Middleton. These maps come in various sizes, and can even be customized according to your needs. Just connect with us before we begin production so we can go over specifics. We will work to accommodate your sizing needs.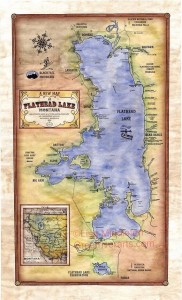 So to recap, with a hand painted historical map by Lisa Middleton, you spend less money, gets better quality, and more size options… it seems like a no-brainer. This is a great way to begin collecting historic antique maps without having to spend a lot of money, and putting your money at risk in the off chance you purchase a counterfeit (it does happen, trust me). Furthermore, they look beautiful and could be regarded in time as heirloom pieces. What a beautiful way to start a family tradition.
We have many maps to choose from online, or you can contact us if you would like a custom map designed specifically for you. These make perfect gifts and Christmas is right around the corner! Don't let it sneak up on you! Your friends and family would love one of these!
Follow Great River Arts on Facebook and browse our online store to see all of the neat gift ideas available to you!