Discovery Map Series: Antarctic Exploration – Route and Surveys of the South Magnetic Polar Party, 1908-09
The Route and Surveys of the South Magnetic Polar Party, 1908-09 was published in England by the Royal Geographic Society in 1909. The primary contributors of this map are Douglas Mawson, 1882-1958 and Sir Ernest Henry Shackleton, 1874-1922. From October 5th, 1908, to the 2nd of February, 1909, a scientific team that included Douglas Mawson made a journey to the Magnetic South Pole as a part of Ernest Shackleton's 1907-09 British Antarctic Expedition (Nimrod Expedition). Shackleton was a British polar explorer of Antarctic Exploration and a principal figure of the period known as the Heroic Age; he led three British expeditions to the Antarctic. Mawson was an Australian geologist and explorer who received worldwide acclaim for his explorations in the Antarctic that enabled Australia to claim numerous square miles of the Antarctic continent.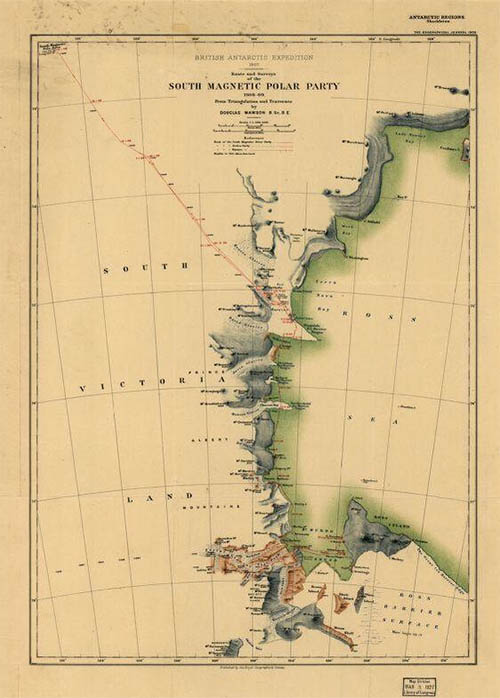 The expedition's base, labeled "Winter Quarters" on the map was at Cape Royds on Ross Island. The route taken was known as "The Northern Party," which extended west from base camp across McMurdo Sound, over the seasonal sea ice, then north along the coast, before turning inland and heading for the Magnetic Pole. The routes shown encompass the areas explored or surveyed along the eastern coast of South Victoria Land, including the routes of three exploring parties- the South Magnetic Pole Party, the Erebus Party and the Western Party. There is some indication of land relief highlighted by spot heights, hachures, contours and bathymetric tint. Mawson was interested in glaciological and geological investigations, and the expedition led him to subsequently publish significant accounts of his observations of the aurora and geomagnetism.
This map illustrates the limited knowledge that existed regarding the Antarctic even into the early twentieth century. Several glaciers are identified on the map, including Ferrar, Davis, Koettlitz, Mawson (on the E coast of Victoria Land and named for Douglas Mawson), Fry and Reeves. The Great Ice Barrier is now called the Ross Ice Shelf and is the largest ice shelf in the world, covering more than 480,000 sq. km. Numerous mountains are identified, with an area labeled "numerous high peaks," bays and inlets, as well as several islands that include Ross Island, Black Island, Brown Island and White Island. The South Magnetic Polar Party, 1908-09, endured great hardship, but they made a monumental achievement by going further south than any previous expedition–within 97 geographical miles of the South Pole. This map served to build on existing information about the Arctic region with new findings and observations.
Gifts for Moms and Dads! Click Here