Travel Map Feature: 254 Apostle Islands National Lakeshore Designed by Lisa Middleton
Explore the Apostle Islands in your very own home in gorgeous detail! Designed by map and adventure lovers, Lisa Middleton and her team have created another beautiful masterpiece just for the folks who love the Islands most! Beautiful blues and refreshing Greens, the large prints are awesome because you can read them from across the room, and you don't have to worry about special glass- the UV resistant ink is guaranteed not to fade! Great for the North shore lover in you and the perfect gift to show someone you really "get them."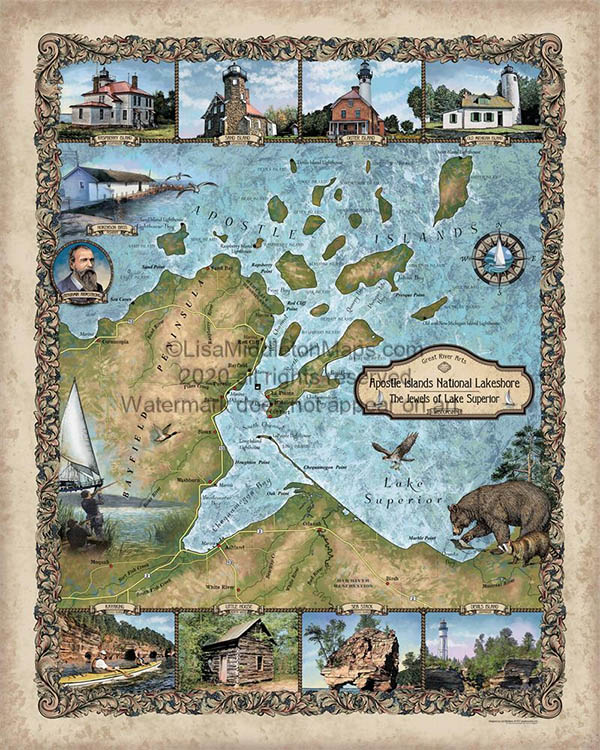 Formed from the glaciers that covered North America some 12,000 years ago, Apostle Islands National Lakeshore is located just off the northeastern tip of Bayfield, Wisconsin, extending into the waters of the spectacular jewel, Lake Superior. Boasting 21 islands and 12 miles of mainland, Apostle Islands National Lakeshore is an extraordinary blend of water, land, culture, and natural resources. The past meets the present and the beautiful water meets land and sky, captivating the scenic beauty of the region. The majestic wooded islands comprise of sea caves, sandstone cliffs, and miles of pristine sandy windswept beaches and shoreline. Six of Lake Superior's light stations were constructed on the Apostle Islands to aid Great Lakes navigation. It is believed that the islands were inhabited by native peoples, the Objiwe, whose history dates back to the 1400s. Additionally, during the time of early European exploration and settlement in North America, the islands were important locations for fur traders, French voyageurs, and missionaries.
In 1970, twenty of the islands and 2,500 acres of the Bayfield Peninsula were designated By Congress as Apostle Islands National Lakeshore. The Apostle Islands Archipelago is renowned for its many lighthouses, a feature that sets it apart in the National Park System. There are nine historic towers on six islands, with Devil's Island Lighthouse as the only one to retain its original Fresnel lens, and the last manned station in the Apostle Islands. Raspberry Island Lighthouse was restored between 2005 and 2006, a project that cost over a million dollars.
Madeline Island, furthest south and the largest of all the Apostle Islands, while not a part of the National Lakeshore, is the only year-round community island that is a popular retreat and boating region. Gull and Eagle islands are designated bird sanctuaries attracting countless species of birds, including herring and ring- billed gulls, double-crested cormorants, great blue herons, and cliff swallows, along with the endangered  piping plover.
Recreational opportunities abound within the protected bays, on public docks and pristine beaches of the Apostle Islands that display such natural beauty. Anglers have the opportunity to catch Lake trout, Brown trout, Brook trout, Rainbow trout, and Coho salmon. More than fifty miles of maintained trails provide access to lighthouses, abandoned quarries, old farm sites, historic logging camps, beaches, campsites, and scenic overlooks is available to hikers to enjoy. Sea kayaking and boating are very popular activities on the Apostle Islands as well.
All sizes are approximate.
"Watermarks will not appear on product."
For more of our Alaska Maps! Click Here