Travel Map Feature: Port Clinton, Marblehead Island, and the Lake Erie Islands
The Ohio regions of Port Clinton, Marblehead and Lake Erie Islands are rich in history and scenic beauty, and attracts many each year, who are looking for fun, adventure or relaxation. From miles of beautiful shoreline, to fun-filled activities that nature facilitates, these Ohio treasures offer thrilling experiences and memories.
Port Clinton is located along the Portage River and Lake Erie and is situated in Ottawa County. The port city was established in 1828 and is about 44 miles east of Toledo. It was named in honor of DeWitt Clinton, lieutenant governor of New York, 1811-1813. It is also a part of an area of Ohio that is referred to regionally as 'Vacationland", known as a popular summertime tourist destination, which encompasses the counties of Erie, Huron, Ottawa and Sandusky. The city has been dubbed the "Walleye Capital of the World," known for its annual Walleye Drop, commemorating the new year. Its fishing and boating industries are economic drivers. Attractions in Port Clinton include Monsoon Lagoon Water Park, Shade Acres Campground, Catawba Island State Park, Ottawa County Historical Museum, Liberty Aviation Museum and African Safari Wildlife Park.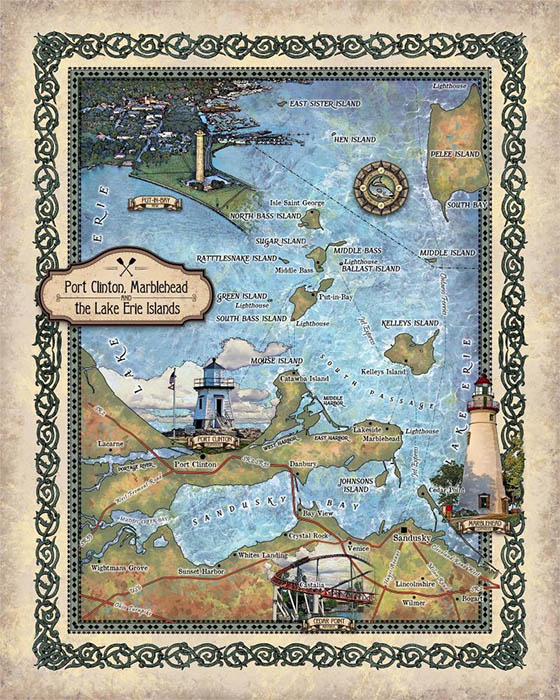 Roughly 10.6 miles from Port Clinton is Marblehead, also situated in Ottawa County, at the tip of the Marblehead Peninsula, which divides Lake Erie proper from Sandusky Bay. Marblehead is also a part of "Vacationland" and is popular for its lake frontage and top quality sport fishery. It is home to the Marblehead Lighthouse that rests on the Marblehead Peninsula and is a part of the Marblehead Lighthouse State Park. It is the oldest continuously-operating lighthouse on the U.S side of the Great Lakes, in service since 1822. Marblehead is home to a United States Coast Guard station and is also a major commercial producer of limestone. Some of Marblehead's attractions include Marblehead Lighthouse Historical Society Museum, Marblehead Lighthouse State Park, Marblehead Lighthouse, Lake Point Park and Meadowbrook Marsh.
A ferry ride from Marblehead can take folks to the Lake Erie Islands, a chain of archipelagic islands in Lake Erie. There are over 30 islands that range in size from miniscule to larger inhabited land masses, that includes the more popular Kelleys Island, Pelee Island and the Bass Islands. Most of the islands are on the Ohio side of the U.S, while Pelee Island is the only major inhabited island that belongs to the Province of Ontario. Also a part of the collective area known regionally as "Vacationland," the Erie Islands offers the opportunity to enjoy water sports, like parasailing, and to explore attractions such as the Inscription Rock Petroglyphs, Glacial Grooves  State Memorial, Kelleys Island State Park, Scheele Preserve and Jones Preserve.
These three "Vacationland" sites are unique and present the opportunity to experience and enjoy all they have to offer on the water and in nature.
All sizes are approximate.
For more of our Alaska Maps! Click Here