Travel Map Feature: 208 Custom map of Hawaii Waterfalls, Beaches, and Natural Lands
Out in the middle of the Pacific Ocean lies Hawaii, home to one of the world's most active volcanoes and the tallest sea mountain in the world. This chain of islands is roughly 2000 miles  (3200 kilometers) from the coast of the Continental United States. Hawaii is made up of eight major islands and more than 100 smaller islands, islets, and atolls. The largest six which are each over 100 square miles in area are Hawaii, Maui, Oahu, Lanai, Molokai, and Kauai. Each island is uniquely different, with its own personality, adventures, scenery, and activities. Hawaii is unlike any other place on earth.
Kauai, the "Garden Isle," is the oldest island in the Hawaiian Chain, and its past is filled with legends such as tales of the Menehune, a mythical race of small people skilled in construction and engineering, who are responsible for the creation of Kauai's aqueducts and fish ponds. Kauai's Napali Coast boasts towering, jagged cliffs, while Waimea Canyon, "The Grand Canyon of the Pacific" offers beautiful panoramic views beyond the imagination. Two of Kauai's amazing beaches include Poipu and Hanalei Bay. Uluwehi Falls, or more commonly called Secret Falls, is an extremely popular site for visitors.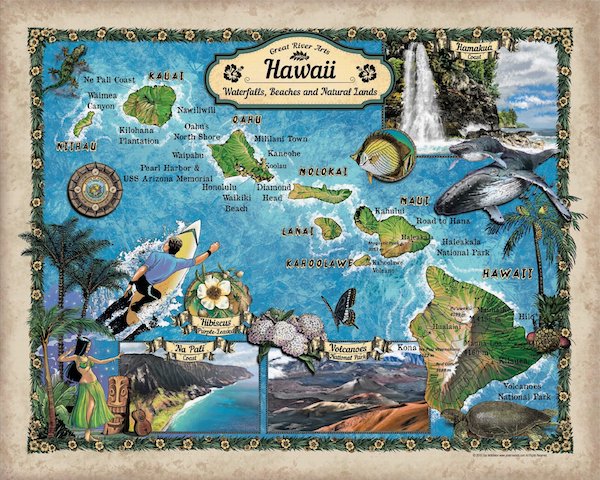 Oahu, also known as "The Gathering Place," is a blend of modern and ancient, expressing the diversity and culture of the region, which is grounded in the values and traditions of Native Hawaiian people. Waikiki is regarded as a historic hot-spot that attracts many visitors today with its beautiful beaches, including legendary Waimea Bay, Kailua Beach, and Makaha. This is also the site of the Pearl Harbor Memorial.
Molokai is an area of unspoiled country and untouched beaches, the highest sea cliffs, and Hawaii's longest continuous fringing reef. It features Hawaii's longest white sand beaches and the sacred Halawa Valley with its beautiful vistas and towering waterfalls.
Lanai is a duality of sort, with luxurious resorts on one side of the island while the other takes you "off the beaten path" to sites such as Keahiakawelo (Garden of the Gods), Kaiolohia (Shipwreck Beach), and the protected Hulopoe Bay with its tide pools carved out of volcanic rocks.
Maui is a visitor's favorite with scenic, fertile slopes, whale watching, Haleakala National Park and more than 80 incredible beaches. Hawaii Island, called the "Big Island," is home to Volcanoes National Park, Holualoa, the heart of coffee country, and the city of Hilo, where botanical gardens and waterfalls abound.
Hawaii is an expression of nature, beauty, and power; it offers an abundance of opportunities to enjoy the outdoors, the scenery, historic sites, and secluded hotspots.
This is a digitally colored map designed by Lisa Middleton and her team.
All sizes are approximate.
You will also love our antiquarian map collection! Click Here