Audrey Hepburn Proves a Silk Scarf is the Perfect Gift for any Woman!
At Great River Arts, we are known for maps. We make beautiful, custom, hand painted historical maps featuring locations around the globe. We also produce custom maps of various sizes, according to the order placed. However, now we also produce custom silk scarves. That's right, the same beautiful maps and locations featured on Great River maps can now be worn as a beautiful silk scarf. Scarves have long been considered to be an accessory that has a touch of elegance and style to just about any occasion. For Audrey Hepburn, this was certainly the case. Take a look below at one of the ways she redefined scarves and brought them into the limelight as we present 5 different ways you can wear your Great River Arts silk scarf! After this, you will want to add several to your wardrobe. They will give your clothes a sense of timeless style. Plus they are just so much fun!
5 Tips to make Your Scarf Pop!
1. Ponytail Wrap. Why not add a punch of color to a neutral outfit by wrapping your ponytail with a beautiful custom Great River arts silk scarf? If you need to dress it up a bit, simply tie the ends into a big bow. It also draws more attention to the scarf too. This is a great way to get noticed. We call this one, the "interview winner".
2. Hairband. This is a simple way to take a formal day at the office and give it a slightly casual feeling. Simply use your scarf as a headband, letting the loose ends trail across your neck. Tie the knot to the left or right side of your neck for a bit of loose end presentation flair, or simply tuck them into the headband for a more polished.
3. Wrap a Hat. This just screams Kentucky Derby, or Palm Beach Chic! It is also a great way to dress up a hat. Simply wrap the top of your wide brimmed hat with a silk scarf, tie the ends together, and you instantly have a beautiful new accessory adorning the top of your head.
4. Classic Neck. Of course, you can always wrap it around your neck. That is the ultimate classic move. Tie the ends, or tuck them into your shirt/sweater for a different variation on the look. This is the classic scarf at its finest!
5. The Headscarf. This is the method that Audrey Hepburn turned into a style icon. She was known for wearing a headscarf much of the time. In fact, she wore it so much that at her wedding, she chose to wear a headscarf rather than a more traditional lace veil. Play around with this look, and see how well it works for you. You can never go wrong with a Hollywood legend!
Now you have five great ways to wear a silk scarf. Yet there are so many more options. Take a look at the picture below for a few more ideas!
More Beautiful Ways to Wear a Silk Scarf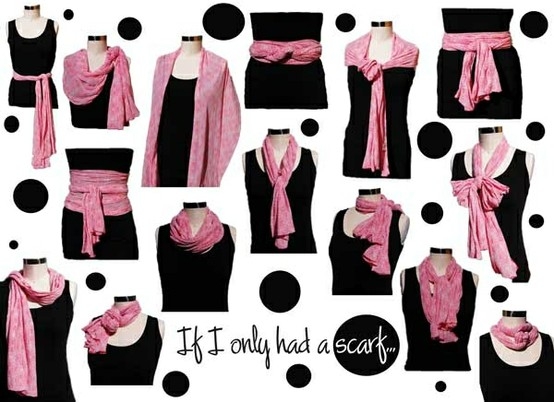 From traditional, to modern, scarves are much more than an accessory… they are a necessity. You can order your scarf here, and find out more about how we put our great works of art onto your silk scarf!
please follow us on Facebook and check out our store on Etsy and Shopify!